Dive a Rebreather
DOLPHIN The Secret of Silence - When you slide beneath the surface you instantly become a part of a different world - a silent world. With a Dräger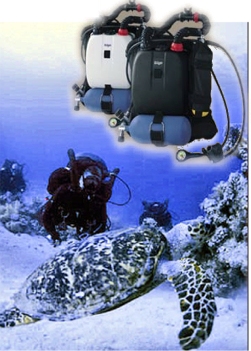 rebreather you become "one" with the silent world and acutely aware of the silence it brings.
Shy marine inhabitants are no longer afraid of your presence and accept you as a free member of their world. For the first time you can experience diving the underwater world as it should be - in total silence.
Recreational semi-closed rebreather with constant gas and bypass for additional gas demand supply, CO2 absorption with scrubber canister.
Depth limited to 130 feet (40m) with optional 32% O2 dosage insert.